The Client
The First Class Facilities Management team values long-term relationships with a wide variety of clients in a range of industries. For this particular project, we were providing our services to one of our ongoing partners, FRP Advisory Trading Limited.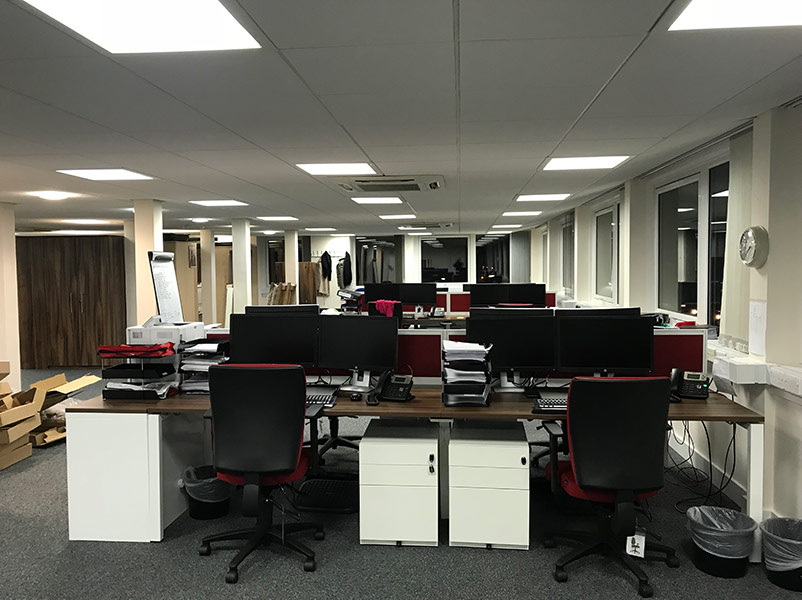 We've been providing a diverse selection of facilities management services, office fit outs, health and safety services, furniture, and bespoke office products to their range of offices across the United Kingdom. When they approached our team with this task, however, it quickly proved to be the biggest challenge we've faced with them yet.
The Challenge
FRP Advisory Trading reached out to us in January this year about a fit out they needed completed at their office in Rathbone Place, London. This was a presently empty space that needed to turn into a fully functioning reception and meeting room.
They required a space in which they could work and get valuable use from the area, whilst ensuring that all clients and visitors felt welcome. To complete this entire redesign and fit out, we were given just a two-week deadline – so work on the project had to commence immediately.
The Process
In this instance, we needed to address the space with a full Cat B fit out. What does this entail, exactly? We essentially had to take an empty shell of a space, and transform it into a fully functioning office area, both functioning and homely to guests and clients. This involved installing facilities, designing the layout, and furnishing the entire area.
With the importance of efficiency on this task, we worked closely with a couple of other trusted companies. Reaching out to HQ Renovations and R&H Electrical for collaboration on this mammoth task ensured that we could meet deadlines without ever having to compromise on the high level of quality we bring to all our services.
The Solution
For this fit out, we designed features based on the current feel of the office space. We used a modern black Crittall effect glazing with a bare brick wall. In order to complement the current meeting room suites in the office, we installed LED lighting and a woven vinyl floor covering, tying the entire workspace together cohesively. Our entire fit out, along with a full redecoration of the wider office and installation of a Quooker tap in the kitchen, was delivered to our clients within just 10 days.
Contact FCFM to Redesign Your Workspace
At First Class Facilities Management, we're ready to handle any renovation or refurbishment task you've got for us. We've worked with companies of all sizes, offering world-class fit outs, redesigns, and facilities management services for their office spaces. We tailor our services to suit your needs, working around your deadlines and budgets to provide the best results possible.
If you're looking for a complete office fit out, we're ready to talk you through the process. To find out how FCFM could be helping you build the workspace of your dreams, contact us today to speak with a friendly team member.