The COVID-19 pandemic has changed just about everything for so many of us. At home, at work, or out and about, we tend to act more cautiously these days— and for good reason. Despite now having vaccines available, the virus can still spread, and does most often in enclosed spaces with limited fresh air. This describes a lot of office setups, so feeling anxious about returning to the office is understandable.
This blog describes the 7 most effective ways to keep COVID safe at the office, to give you peace of mind. For personalised advice or to enquire about the services we offer at First Class Facilities Management, contact our friendly and helpful team today.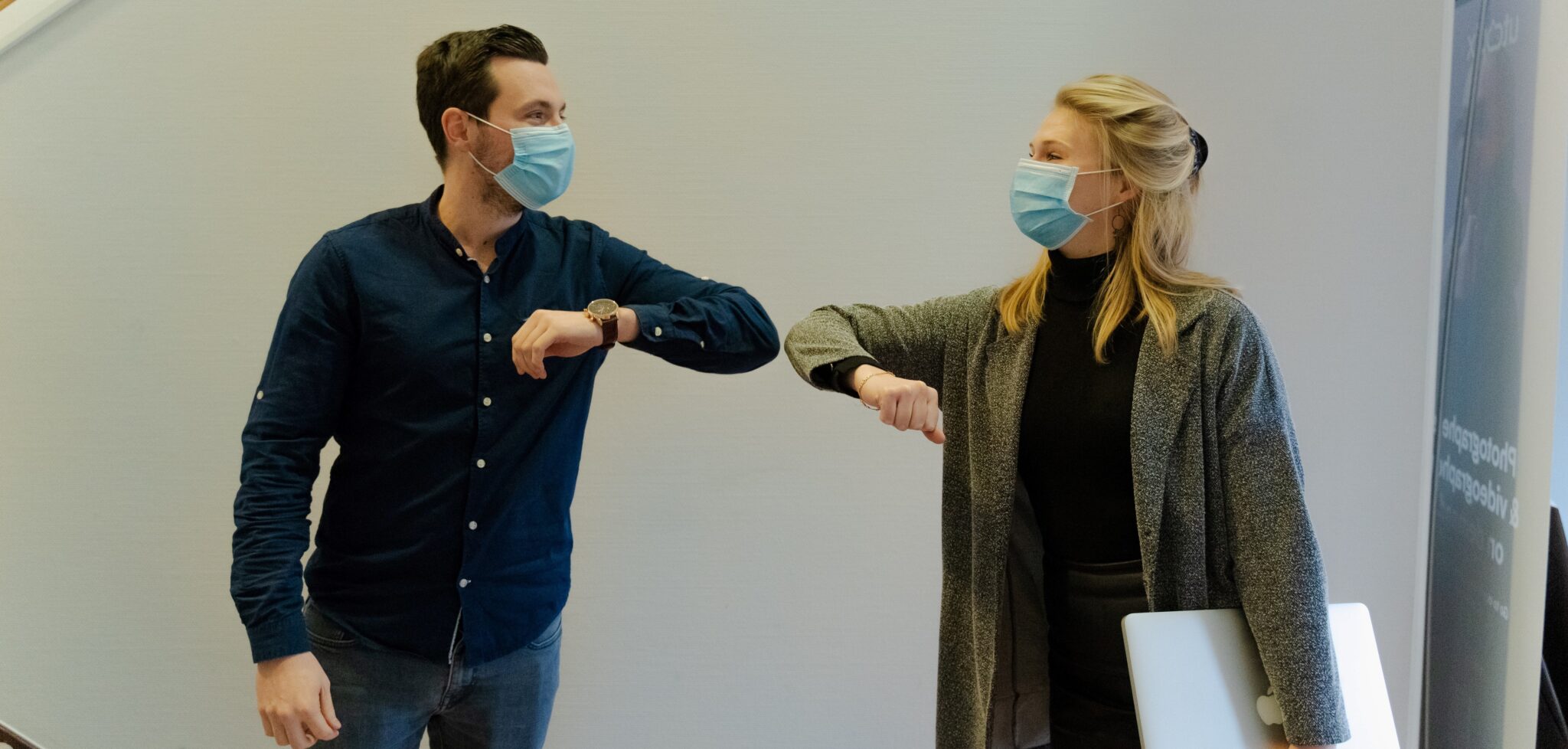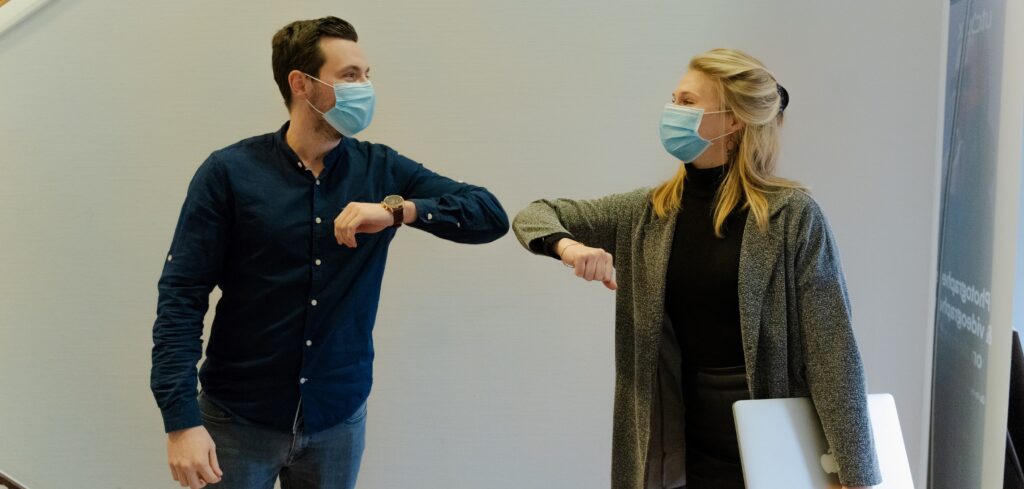 How to Protect Yourself and The Office
Keeping your office COVID-safe is an added responsibility nobody counted on prior to 2020, but as we return to offices after working from home for so long, it's at the forefront of our minds. Ensuring you take as many precautions as possible will reduce your risk of catching the virus and therefore passing it on to others. You can reduce these risks by wearing personal protective equipment (PPE)— but don't worry, it doesn't have to be a full Hazmat suit!
7 Ways to Stay COVID Safe When Returning to The Office
1. Frequent, Professional Cleaning
General office cleaning has always been useful in preventing germs spreading around offices, long before COVID-19. While it may not have been as big of a deal previously, it still prevented viruses and illnesses travelling around. In fact, cleaning prevented these so well that you may never have noticed these bugs were around in the first place! Simply wiping down often-used items like keyboards and mice reduces risk of viral illnesses.
2. Sanitisation Stations
Sanitisation stations are now a frequent fixture at entrances to businesses and throughout offices. Same as with cleaning in general, keeping hands sanitised prevents the spread of germs and many viral illnesses. By putting a sanitisation station at the entrance to your business and requiring staff, customers, and visitors to use them on arrival, you can immediately reduce the risk of germs coming in and therefore spreading.
3. Awareness and Action for High Volume Touchpoints
If you think about what gets touched in an office on a daily basis, the number of germs you could be encountering each day is staggering. At the building entrance, office entrance, and in communal areas, there are countless doorknobs and surfaces touched by multiple people daily. In fact, a single doorknob containing a pathogen can infect up to 60% of people in an office in just 4 hours! But this risk can be mitigated by regularly cleaning touchpoints, including surfaces you may not have thought of. Consider how many people use the office microwave, open the fridge, touch the coffee pot, or turn on the light switches on any given day.
4. Fitted and Compliant Face Masks
Face masks have long been our first defence against COVID-19, and they remain incredibly effective. Multiple studies have shown that when worn correctly, face masks can prevent up to 80% of droplets containing the virus from escaping into the air. While some types of masks can be more effective than others, a mask that fits snugly around the nose, mouth, and chin can be very useful for your return to work.
5. Clinical Wipes
When wiping with paper towel or a damp cloth or sponge isn't enough, clinical wipes are there to pick up the remainder. Also known as disinfectant wipes or sanitising wipes, these contain ingredients which can kill bacteria and viruses in up to 30 seconds. They clean and sanitise at the same time, making it a great 2-in-1 for at home as well as in the office.
6. Antibacterial Sprays
Similar to the wipes, antibacterial sprays disinfect surfaces around the home and office. These often come in trigger bottles, where users will need to spray onto the intended surfaces and then wipe with a clean cloth and allow the surface to dry.
7. Ventilation
Ensure fresh air is available in enclosed areas by utilising open windows, doors, or air vents. You can also use fans and ducts to bring in air from outside. Adequate ventilation reduces the amount of virus in the air and therefore reduces the risk of aerosol transmission.
Compliance in Offices and Corporate Settings
In England, any office or workplace should ensure a professional performs a risk assessment to determine what types of PPE are most suitable. Each environment is different, and every worker is different so one size does not fit all.
While many restrictions were lifted from July 19, workplace controls regarding ventilation, sufficient cleaning, and good hand hygiene remain in place.
Need Assistance with Your Employees' Return to Work?
If your workplace is opening up again, we hope this article has helped to explain the best preventative measures you can use against COVID-19. At First Class Facilities Management we provide professional services for office buildings, including cleaning, so that your return to the office can be as stress-free as possible.
For further information about the cleaning services we can provide, click below to (safely) get in touch.